I. Technical description
1) Qingdao Bojia Machinery Manufacturing Co. production of curing machine, heating plate and pressure beam all with high strength aluminum alloy production.
2) Heating system is the latest research and development of new products - "Bojia" card vulcanizing machine heating blanket, vulcanizing machine heating blanket is a domestic initiative, hot plate heating fast, uniform temperature, the quality of Canada's technical level, because the blanket is sealed, Will not be caused by damp and leakage phenomenon, effectively avoiding the risk of personal electrical shock and other problems.
3) Pressure device is our newly developed high-tech products "was" brand pressure vulcanizing machine bag at the leading level in the same industry, it has the advantages of light weight, uniform pressure, high pressure under repeated use without pressure relief, Water Leakage phenomenon.
4) BOJIA brand vulcanizing machine control box,The components using Chint and SIEMENS appliances, from heating to cooling insulation, all automatic control.
II. Technical Parameter
| | | | | |
| --- | --- | --- | --- | --- |
| Item | A=800mm | A=1000mm | A=1200mm | A=1400mm |
| Model | 800×830 | 1000×830 | ZLJ-1200×830 | 1400×830mm |
| Belt width | 800 | 1000 | 1200 | 1400mm |
| Working pressure when vulcanizing (Mpa) | 1.0-3.0Mpa (adjustable) | 1.0-3.0Mpa (adjustable) | 1.0-3.0Mpa (adjustable) | 1.0-3.0Mpa (adjustable) |
| Vulcanizing temperature | 145℃ | 145℃ | 145℃ | 145℃ |
| Temperature difference of heating platen surface(℃) | ±3℃ | ±3℃ | ±2℃ | ±3℃ |
| Heating up time (from room temperature to 145℃) | ≤30min | ≤30min | ≤15min | ≤30min |
| Adjustable range of temperature (℃) | 0-200℃ | 0-200℃ | 0-200℃ | 0-200℃ |
| Time adjustable range | 0-99min | 0-99min | 0-99min | 0-99min |
| Heating platen size | 960*830mm | 1220*830mm | 1420*830mm | 1653*830mm |
| weight | 460kg | 700kg | 850kg | 1050kg |
| voltage | 380V | 660V/380V | 380V | 380V |
| Working pressure | 0---1.8mpa | 0---1.8mpa | 0---1.8mpa | 0---1.8mpa |
| Motor power | 10.2kw | 13.1kw | 15.5kw | 18kw |
III. Random accessories
1) Top and bottom heating plate:2 pcs(1420×830mm)(tickness25mm);
2) Pressure water bag: 1set(1420×830mm);
3) press plate: 1set(1420×830mm);
4) Heat insulation board: 2set(1420×830mm);
5) Pressurized beam: 8 group;
6) The large bar: 8 set;
7) Control box: 1set(All using CHINT electric);
8) Input line: 1set(Combined air plugP40);
9) Output line: 2set(Combined air plugP40);
10) Sensors: 2set(Internal burial)
11) Electric pressure pump:1set;
12) High pressure water pipe:1 root;
13) Ratchet wrench:2 bundle.

IV. Pictures for Reference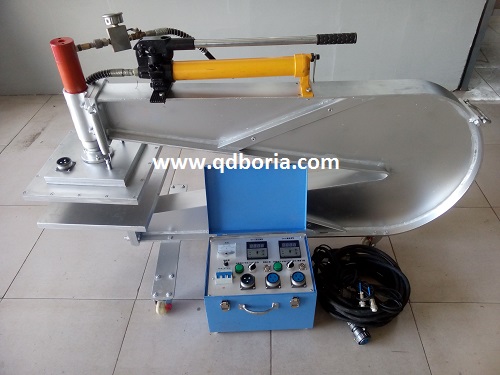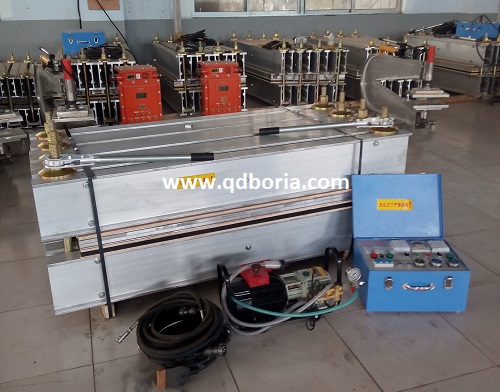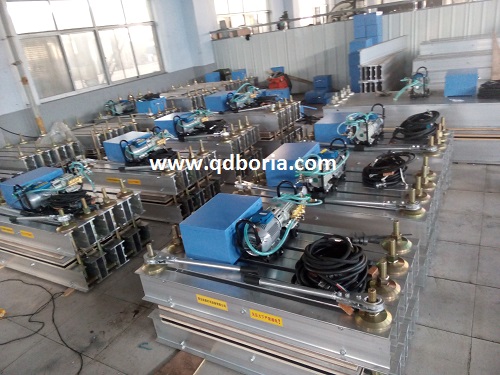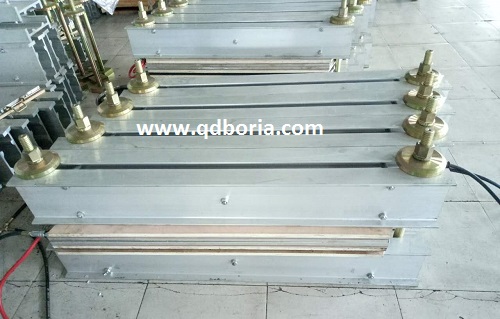 V.Test Before Delivery
Before leaving factory, this rubber vulcanizing machine needs to pass 24 hours' test running and guarantee no oil leakage and seeping to avoid unnecessary quality problems.
VI. Packaging
Equipment painting completed before delivery, and then wrapped with stretch film, to protect the painting surface, we use wooden packaging outside.The key parts of the machine, such as electronic control box, will be wrapped by shockproof packaging materials, and then packed in wooden cases.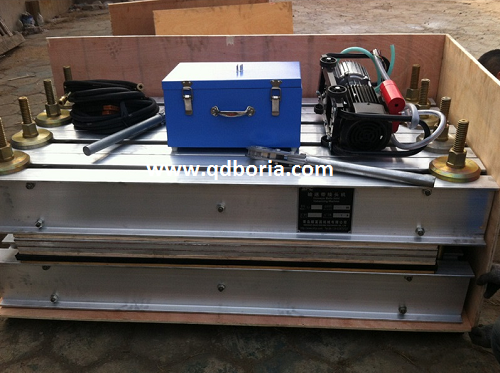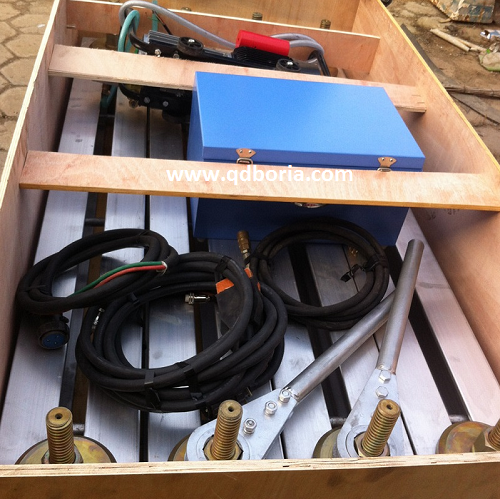 VII. Our Services
Our engineers can design target machines for customers and send them the drawing to confirm. We are always on the side of saving your cost.
In the process of production, we will take photos and send to customers for their track the progress.
Documents such as packing list, commercial invoice, and bill of lading etc. will be sent after the delivery.
We could supply free English foundation DWG, installation drawing, user guide, maintenance manual and part drawing.
We supply overseas engineer service and help to train your workers to operate the machine.
VIII. Our machine list
Our company professional manufacture rubber vulcanizing press (frame type,four column type,lab press and so on), rubber mixing mill, batch off cooler, rubber extruder, rubber strip making machine and tire recycling equipment.

If you interested in our products mentioned above, kindly let us know by return email. Then I will supply you with further information. Meanwhile, welcome to visit our factory!

FAQ

1. Delivery time of the rubber machines?
This is specially designed machine according to your specific requirement.
From engineer designing to production completion, it needs about 25 to 35 days.

2. What does your factory do regarding quality control?
We pay much more importance to quality control from the very beginning to the end of production.
Every machine will be fully assembled and carefully tested before shipment.

3. What's the machine quality guarantee?
Quality guarantee time is one year.We choose world famous brand components to keep our machine in perfect working condition.

4. Are you able to give installation and commissioning overseas? How long time will it take?
Yes, we can supply overseas service and technical support but customer needs to pay for the cost of the installation.
Small machine usually takes within 2~3 days.
Big plant usually takes about 30 days.

5. How can I trust you to deliver the right machine as I ordered?
We will absolutely deliver a good quality machine as we discussed and confirmed in the order.
The core of our company culture is innovation, quality, integrity and efficiency. Also we have had much good cooperation with world famous rubber production manufacturers. If you come to our factory, we can show you're the user around us.

6. How can we go to your side?
We are located in Qingdao City, Shandong province, China. The name of airport is Qingdao Liuting airport.
We will pick up you at the airport.